The World Economic Forum (WEF) that has been pushing the 'Great Reset', has trouble identifying us through facial recognition because of Covid masks, so now it is advocating that people be identified by their unique heartbeats.
Technology developed by NASA and the Pentagon will fire lasers at people's bodies to detect individuals' unique cardiac signatures that can be matched against a medical database to reveal their identities. The technology may also be used to identify shoppers entering stores. Klaus Schwab, founder of the WEF, has written about forcing people to undergo brain scans prior to traveling, law enforcement retrieving memories directly from people's brains, microchips under the skin to read thoughts and influencing behavior.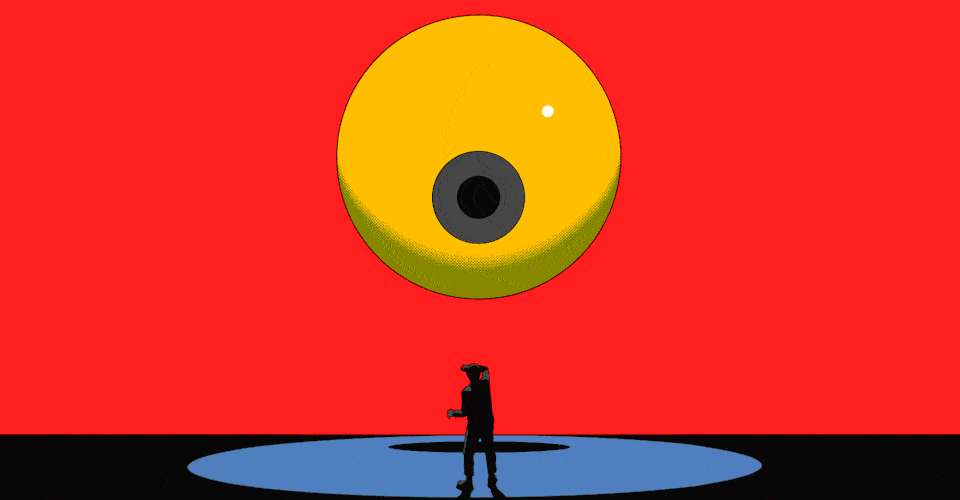 A new, innovative form of invasive mass surveillance features in passing in one of the categories of these long-term effects.
The predictions touch on the way office workers forced to work remotely will live and work going forward, suggests that people will be increasingly boxed in and physically constrained in their everyday activities to what's referred to as "15 minute (away from home) spaces" like restaurants and gyms we'll be likely to go to in the future.
Other points concern the rise of food delivery and what the WEF, which teamed up with US consulting firm Cognizant to produce this, calls "ghost kitchens," then the future of education, which is said to likely be a hybrid of homeschooling and students attending classes in schools.
But what's particularly interesting is how the WEF envisages the future of security: putting to use a little-thought-of unique biometric marker: the human heartbeat.
This tech has already been developed by the Pentagon, that has produced a device to identify what reports refer to as a person's cardiac signature. This was done at the request of US Special Forces, who wanted to be able to pinpoint their enemies from as far as 650 feet away.
But in the future, as predicted by the WEF, the "enemy" will be everybody – not only security targets, but also, for instance, "opted-in shoppers as they enter a store, to personalize their visit."
The device, an infrared laser, will also help with bypassing the problem of people being told to wear masks, but then many mass surveillance facial recognition systems ending up "stumped" by them.
Then there's the "advantage" of these lasers' long range use. Today it's 650 feet way – but as Pentagon's Combating Terrorism Technical Support Office's Steward Remaly remarked in 2019, "I don't want to say you could do it from space, but longer ranges should be possible."
Control: Rastrearán a las personas por el latido del corazón, la última novedad del Foro Económico Mundial
El Foro Económico Mundial, publicó un video en su cuenta de twitter con cinco propuestas para implementar en el futuro, una de las cuales es un sistema de rastreo usando el "latido del corazón".
El video dice que el rastreo facial se está viendo afectado por las mascarillas y que el latido del corazón es único, como lo es nuestra cara.
El clip continúa diciendo que la NASA desarrolló un sistema que, mediante un láser, puede identificarnos por los latidos del corazón.
De acuerdo a una publicación del 2019 de MIT Technology Review, el Pentágono desarrolló el prototipo de máquina que puede reconocer una "firma cardíaca" única estando a 200 metros de distancia y atravesando la ropa.
En la publicación se explica que a diferencia del rostro o de la forma de caminar, la firma cardíaca no se puede alterar, ni disfrazar y se mantiene constante.
Si bien las otras propuestas no son tan impactantes, nos están señalando que nuestra vida va a cambiar completamente luego de la aparición del virus PCCh o covid y que intentarán llevarnos hacia ese futuro.
La primera de las propuestas es una oficina del futuro, que cumplirá con tres requisitos:
Poder ser usado como showroom para los clientes
Tener un laboratorio de investigación
Un espacio para encuentros con colegas
La segunda de las propuestas es crear "espacios de 15 minutos", serían como vecindarios a no más de 15 minutos (caminando) de casa donde puedan encontrar distintas propuestas para entretenerse o distraerse, como gimnasios, bares y galerías de arte.
La tercera propuesta son las "cocinas fantasmas", donde uno podrá elegir una variedad de comidas y recibirlas en la casa.
La cuarta propuesta es la del rastreo por latido de corazón, que ya explicamos anteriormente.
Y la quinta propuesta es una educación híbrida entre aprendizaje desde casa y presencial.
Como era de esperar, estas propuestas ya tienen sus detractores y se hicieron presentes en las redes sociales.
Brendan Eich es cofundador de Mozilla & Firefox, y dijo en twitter que no quiere que se le facilite el trabajo de control al Gran Hermano usando los latidos del corazón. También se mostró en desacuerdo con el resto de las propuestas.
"Never let a crisis go to waste"

The cheery muzak lulls you into staying within 15 minute walks of your pod and eating the ghost-kitchen prepared bugs.

i don't want to be id'ed by my heartbeat just to ease the task for Big Brother's AI flummoxed by the forever-mask it mandated! https://t.co/CEFmDPlD38

— BrendanEich (@BrendanEich) August 17, 2021
Otro de los opositores a estas iniciativas es la autora Laura Dodsworth, también por twitter preguntó "¿Por qué querría que me reconocieran por los latidos de mi corazón? ¿Por qué querría que mi cuerpo fuera vigilado por un láser?".
This is how our lives could look if technocratic 'utopianists' (dystopianists) decide what's best for us. Why would I want to be recognised by my heartbeat? Why would I want my body surveilled by a laser? https://t.co/hL7jSOnTmo

— Laura Dodsworth (@BareReality) August 18, 2021
Por si a alguien le queda alguna duda sobre las intenciones del Foro Económico Mundial, al final del video, dejan la siguiente pregunta:
"¿Qué cambios de la era de la pandemia le gustaría que se volvieran permanentes?"
Se podría pensar que están testeando la aceptación que tienen las propuestas.
Parecería que están buscando por todos los medios, decidir y controlar el futuro de la humanidad
El líder del Gran Reseteo y presidente ejecutivo del Foro Económico Mundial, Klaus Schwab, pronosticó que las Big Tech perseguirán cada vez más los microchips implantados y otras tecnologías "transhumanistas".
En una entrevista del 2016 con la emisora suiza RTS, se ve a Schwab admitiendo abiertamente que es un fan de esta tecnología. Incluso afirma que los chips cerebrales se utilizarán ampliamente "seguramente en los próximos 10 años" para combinar el mundo físico, digital y biológico.